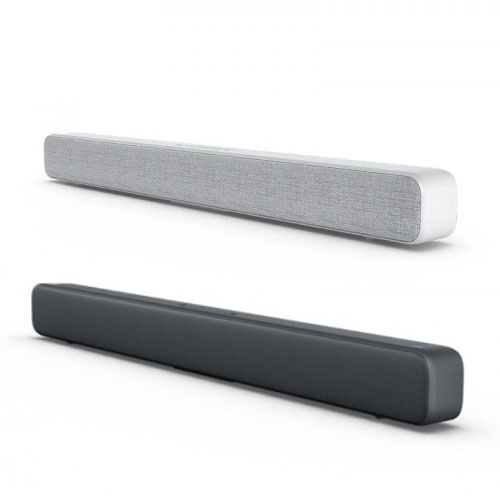 Out Of Stock
Description
Xiaomi MDZ-27-DA TV Soundbar Bluetooth Speaker
Xiaomi MDZ-27-DA TV Soundbar Bluetooth Speaker comes with Eight sound units for really and pleasant sounds, Multiple device interfaces for easy connection, Stylish fabric material design. This bluetoth speaker supports wall and seat installation with Bluetooth playback. This is 33inch TV Soundbar Bluetooth Audio Speaker. This speaker is features with 6 ohm Rated impedance, 50Hz - 25000Hz ( -10dB ) Frequency response. Fashion Design, 5-Way Input Mode, 8 Speakers, Wall Mount. AC 100V - 240V, 50 - 60Hz Power Supply is added in this speaker. This speakers is designed with Bluetooth, 3.5mm AUX/ Line in/ SPDIF/ Optical. It is a high-performance artificial speaker. It can listen and speak like your real friend. The speaker is designed for TV and supports most TVs on the market. It can make you experience the effect of cinema at home. Besides, it supports wall-mounting and seat-mounting.
What is the Xiaomi MDZ-27-DA TV Soundbar Price in BD?
Tech Land BD offers you Xiaomi MDZ-27-DA TV Soundbar with the best price in Bangladesh Which, is your budget-friendly. We also offers you free gift or free installation with this Xiaomi MDZ-27-DA TV Soundbar Order Online for nationwide cash on delivery or visit our Shop. Follow us on Facebook for regular updates and offers. Subscribe our Youtube channel for reviews of gadget Products.
Xiaomi MDZ-27-DA TV Soundbar Bluetooth Speaker
প্রোডাক্ট অর্ডারের পূর্বে সাপোর্ট থেকে স্টক এবং ডেলিভারি সম্পর্কে জেনে অর্ডার করার জন্যে অনুরোধ করা যাচ্ছে।
Xiaomi