Samsung Monitor Price in Bangladesh 2021
Computer monitors are available in many sizes but their main purpose is to display the graphics emanating from a computer. What they need in common is that the LCD or LED technology that powers them. Monitors are usually presented during a widescreen format and usually vary between 23 in and 40 in. Resolutions can differ, as well, with 1080p and 4K bookending the favored spectrum. Gaming-focussed monitors tend to possess higher refresh rates and adaptive-framerate technology, like NVIDIA G-Sync or AMD FreeSync, which remove the stuttering and tearing you otherwise see, while professional monitors use high-quality IPS panels for color-accurate viewing. Scan's experts are available to guide you thru the buying process, so give maybe a call and we'll find a monitor that matches your needs.
Samsung Monitors: Unique Features to fit your Needs
While a laptop is often very convenient and portable, there are times when the tiny screen can make watching movies and editing videos a touch uncomfortable. Having a monitor makes your life tons easier, especially when you're handling tons of Excel sheets and editing images. If you agree, you'll buy Samsung monitors online and find a variety of models with different features. you've got monitors with small screens of 18 inches also large monitors of 27 inches that are ideal for watching movies and YouTube videos on. There are monitors with HD, Full HD, and even Ultra HD resolutions that provide you a transparent and detailed display. So whether you would like to shop for Samsung monitors for basic tasks or for multitasking with important work, shopping online will assist you to find the simplest model for you.
Samsung LU28E590DS - The Samsung Ultra HD Monitor
If you're buying a Samsung monitor with a 4K resolution, the Samsung LU28E590DS may be a model that you simply can have a glance at. This monitor comes with one billion colors and a luminosity of 370 cd/m2, supplying you with vibrant and true-to-life images on your screen. during this way, you'll enjoy watching movies, editing videos, or gaming with realistic details. Gamers can enjoy an optimized gaming experience with the sport mode and fast reaction time of 1 millisecond. This monitor is additionally an honest choice for multitaskers, with the Picture-in-Picture 2.0 feature that allows you to split your screen to figure on different tasks.
Samsung Monitors with Curved Screens
While buying Samsung monitors, you'll also find a variety of monitors that accompany curved screens. By providing a wider field of view, curved screen monitors allow you to enjoy a more immersive experience. The Samsung C27F591FDW is one curved-screen monitor that you simply can have a glance at. This monitor also comes with an eye-fixed Saver mode that reduces blue light emissions, preventing eye fatigue which will occur with long hours of viewing a screen. Added to the present is that the Flicker-Free technology that minimizes screen flicker, letting you're employed comfortably for hours.
With Samsung's Active Crystal Colour technology, the monitor gives you an upscale and vibrant view with a good range of colors. Added to the present is that the contrast ratio of 3000:1 for a transparent picture on your screen. With a high gloss finish and rear case curving, this Samsung monitor is certain to seem very elegant on your desk.
These are just a couple of the various features that you'll encounter while browsing through the range of monitors from Samsung. buying Samsung monitors online is great fun with the range of unique features that you simply can have a glance at before you select a monitor that suits the task you would like it for. Whether it's gaming, watching movies, or multitasking that you simply want to shop for a monitor for, you'll easily find the simplest Samsung monitors for you while shopping online.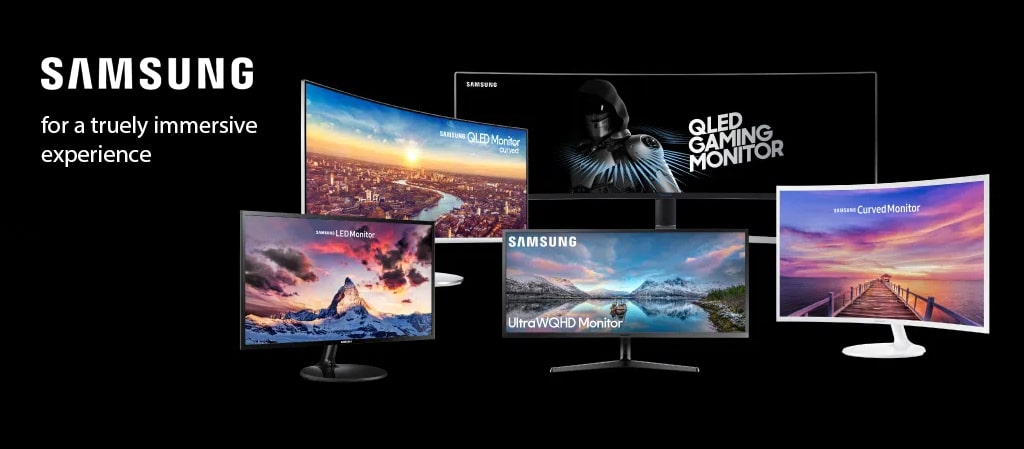 Different Panel Types Of Samsung Monitors
When buying LED gaming monitors, there are three main panel types to require into consideration: TN, IPS, and VA.
TN panels offer the very best refresh rates and fastest pixel response times, making them ideal for professional gamers.

IPS panels offer excellent color reproduction and viewing angles, making them ideal for solo gamers or those that prioritize graphics over performance.
VA panels occupy an area in between TN and IPS panels but also offer far improved performance for dark scenes. For those that like watching cinema or playing games with very low lighting, the deep blacks of a VA panel will provide the simplest viewing experience.