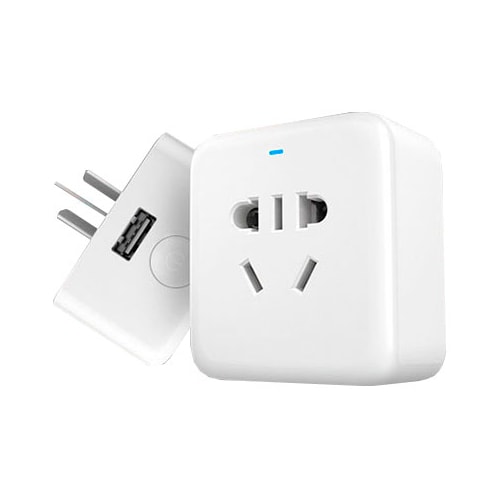 Description
Xiaomi Mi Smart Socket (basic version)
Allows you to enable or disable the socket, put timer using your phone.Wherever you were, you tender you only connect to the Internet. You can enable or disable any technique.Mozhno connects to the router and manages not only one instrument but also all your appliances in the house.
●︎ Power sockets 5V / 1A.
●︎ Rated Current: 10A/220W
●︎ Rated Voltage: AC 110-265V
●︎ Application: Residential/ general purpose
●︎ Grounding: Standard
ground
●︎ Types: Plugs
Enjoy the use of smart socket Smart Socket
Scientific and technical world fills our house. In turn, Xiaomi has released a new smart device: socket Smart Socket. Possible to connect the device to the router m², for remote control from a telephone.
Compact size
The size of the device is so small that it will not interfere with the appearance and design of your interior. Dimensions of the device only 62 x 55 x33mm, which is much smaller compared to other such devices.
Outward appearance
Snow-white glossy plastic, the assembly pays great attention to adjust the joints and assembly parts. On the outer side of the socket, there is one two-wire and three-wire a connector that allows you to meet the demand of the overwhelming majority of users.On top of the outlet is a blue LED that illuminates during power devices and shows what happens the supply of electricity.
Compliance with GOST
Smart Socket outlet m³ corresponds to the State Standard outlets with a three-wire connector, input voltage 180-250Vt output voltage AC180-250Vt, DC 5W, maximum load of 2200W 10A.
The "smart home", ease of management and use
M² Smart Socket Socket is indeed part of a smart home. One need only connect it to the router m². Connect Mi Mi router or a router with an intelligent mini jack, download the application m² router and you can immediately use all the features of smart socket Smart Socket. Once connected to a wall outlet via the phone, we can manage it right, to make it remotely turning on and off from the mobile phone.
Xiaomi Mi Smart Socket (Basic Version)
Availability:

In Stock

Model

Mi Smart Socket
Xiaomi